Enjoying the read?
Subscribe to read more retirement insights.
          Written By: Baird Wealth Management Perspectives
In 2019, Congress passed the Secure Act, retirement legislation to make it easier for companies to offer retirement plans for their employees. Congress is looking to build on those efforts by passing new retirement legislation this year. At the end of March, the House of Representatives passed the Secure Act 2.0 on a 414-5 vote. Key Senators have a slightly different view of what retirement provisions should be enacted and will seek to chart their own course. But taken together, there is a strong appetite in both the House and Senate to pass retirement legislation in 2022.
Key provisions in the House bill:
Increases the age at which individuals must take required minimum distributions (RMDs) from their retirement accounts to age 73 in 2023, to 74 in 2030, and to 75 in 2033

Reduces tax penalty for not taking RMDs to 25% (from 50%)

Increases to $10,000 the limit for catch-up payments to 401(k)s for those aged 62-64 beginning in 2024, and treats those payments as after-tax income

Indexes to inflation the $1,000 annual maximum catch-up payment for IRAs for those aged 50 and older

Indexes to inflation the current $100,000 cap for qualified charitable distributions (QCDs) and allows a one-time QCD transfer of up to $50,000 via charitable gift annuity, charitable remainder unitrust, or charitable remainder annuity trust

Requires businesses offering new 401(k) or 403(b) plans to auto-enroll their employees in those plans (with an opt-out option) beginning at 3% of income and increasing by 1% per year to 10% of income

Doubles the tax credit for the costs of setting up a retirement plan for small businesses of up to 50 employees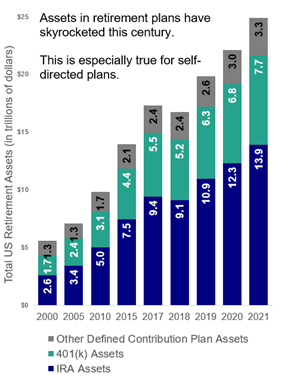 While the House bill passed with a near-unanimous vote, the Senate has its own ideas of what provisions to include. The Senate will try to pass its own legislation, which, if successful, will require the two chambers to negotiate a final version. A number of the Senate proposals already overlap with the provisions in the House bill, including: raising the age for RMDs to 75 years, cutting the penalty for not taking RMDs to 25%, allowing $10,000 in 401(k) catch-up contributions, and creating a "lost and found" database for individuals to find their former retirement plans. In terms of timing, the Senate has a number of other bills on its agenda this Spring. As a result, we expect the Senate to act on retirement legislation later this year, possibly not until after the November midterm elections, during the lame-duck session of Congress. However, given the bipartisan nature of this legislation, some retirement legislation is likely to be enacted into law this year.